We caught up with Sean Hughes, the owner of Dylans- the Kings Arms, St Albans, Hertfordshire, which bagged the title 'Front of House Team of the Year' at this year's Top 50 Gastropubs Awards. 
Founded by Hughes and Drew Knight, the pub was praised by judges for its front of house team experience. Each diner interacts with several staff all there to guide the dining experience but deliver upon the promise of a friendly pub atmosphere. 
Top 50 judges noted that whether you are looking for a guest beer, eclectically curated wine list, or a non-alcoholic cocktail, you will find a passionate team member on hand to help with the dilemma of what food and drink to order.  
Tell us about your front of house team 
People are really passionate about what they do. That comes across with the level of knowledge they've got, and their personal passions on different products we sell. For example, Sam on the front bar, he's a really keen craft beer lover. He has his own Instagram, which we support him with as much as we possibly can, and he puts on beer tasting evenings. So, at the pub, we find the passion that somebody has got in the team and then try and help them develop it. That shines through to the customer experience. 
Roberto, myself very keen wine lovers, we have different opinions on wine. But that kind of works quite well with regards to the customer, because obviously, not everyone's going to like the same wine I like. I focus my knowledge on France, whereas he has more knowledge globally. 
We want everyone the whole front of house team to be completely enthused and excited about what they're doing because hospitality is not the easiest of industries to be in, especially over the last few years. People who with us have a massive passion for what they do, and that's what led us to winning this ward.  
What's your vision for the pub, and how would you pass this on to staff? 
We were a small team, front and back, and we all work very closely together, mainly because we're all working most of the days that the venue is open. So, it's important that we have the same attitude and goals across the teams. 
At the pub, we wanted to [create] somewhere to go that was relaxing, but with the same kind of feel you'd get from eating at a more formal restaurant. We wanted 'casual fine dining'. We go out in London to the best gastropubs and restaurants to get excited and enthused about products and current trends. 
Also, all of our chefs are trained to a really high standard, and everything is cooked completely from scratch. We rely on the kitchen staff to make sure their side of the bargain is kept with the quality of their food, then they rely on us to ensure the service is there.  
So, from the minute the customer arrives at the pub and sits down, the front and back teams work together to create this whole experience. We wanted to create something very relaxing and exciting. Half the room downstairs is a bar, and half is the restaurant, so you're not sat in cold silence, and it's quite a loud and bustling atmosphere that most people love.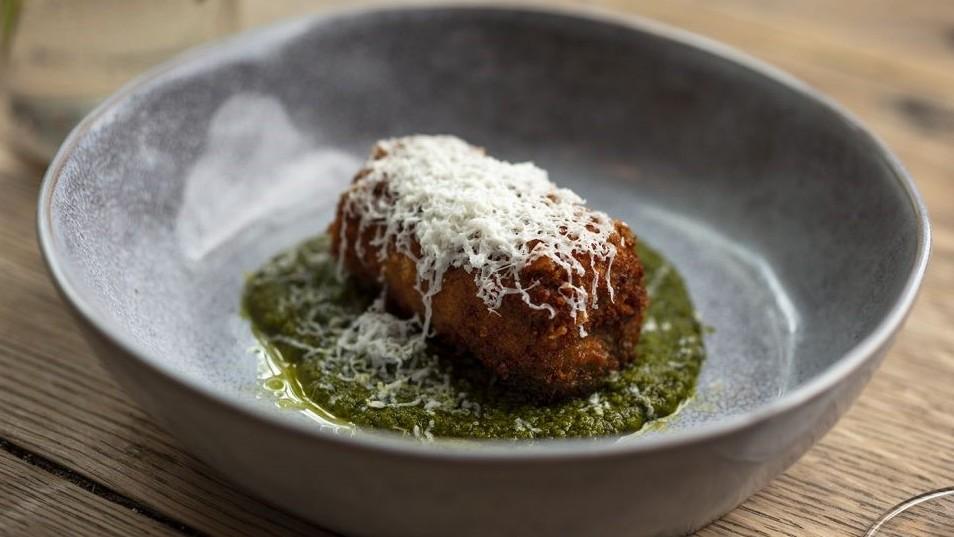 How do you promote the pub? 
Instagram has been and still is the most powerful tool that we have. It's quite good indicator of the popularity of certain products and ideas we are having. 
The visual aspects of the social media platform 100% play in to this. So many people take pictures of their food, so you want someone to sit down and think 'wow that looks fantastic'.  
Instagram aside, one of the most important things as a chef is for somebody to love and eat each dish. As soon as someone sees the food with their eyes, they've made up their mind on whether they're going to enjoy it or not. Probably more than 50% of their happiness will come from that first visual. 
This is why it's so important to make sure dishes look exciting and presentable. Instagram is also an incredible tool, as people can repost stories and images. It's especially important as a lot of people come up from London for a day trip, as they have seen the pub on Instagram.  
What does success mean for the team? 
Success for us is every table being happy when they leave and saying to us, 'that was really fantastic'. Winning awards is lovely, but it's all about the wonderful atmosphere, which is created by the front and back of house teams working together. 
Continuing to be open is also key. The industry is at a crossroads at the moment, with so many elements of cost increases. We've got to adapt and make sure people can still afford to come out, but also really enjoy it when they do, so that they come back. 
What are some things that you do that would make people want to work for you? 
When you join a small team, whether it's Dylan's at Kings Arms or whether it's another gastropub or another independent restaurant, the key is that you're going to work for a small family. 
We genuinely do care about people that work for us, and look to accommodate their needs. We look to nurture them, and train them and we want people to leave knowing way more about the products we sell and about different skills they can use throughout the rest of their lives. 
There's nothing wrong working at a chain restaurant, but I would hope people would want to come and work at the Kings Arms as we're much more hands on. We spend time with staff to make sure they learn and be more confident in what they do. 
What does the future hold for the pub? 
We've got to adapt and move forward, and we're really focused on getting in to the Top 50 Gastropubs list. We are also looking to stock new produce, and are hoping for a really good summer. Hopefully, it'll be nice weather, and people can come to us for drinks and food and look forward to a normal Christmas.